All The Beauty and the Bloodshed
2:55pm - Saturday, Feb 4, 2023
Directed by Academy Award-winning filmmaker Laura Poitras, ALL THE BEAUTY AND THE BLOODSHED is an epic, emotional and interconnected story about internationally renowned artist and activist Nan Goldin told through her slideshows, intimate interviews, ground-breaking photography, and rare footage of her personal fight to hold the Sackler family accountable for the overdose crisis.
"Whether speaking, seething, or vaping, Goldin is a uniquely compelling heroine." (The Ringer)
"So much of this documentary is about what we cannot get back, what we were lucky enough to have when we had it, and what art preserves, accidentally and not." (Rolling Stone Magazine)
"Poitras, whose gift for suspenseful contemplation is on full display here, layers her subject's frank memories and insights over a rolling bounty of her photographs..." (Los Angeles Times)
"As it surveys an individual narrative across a half-century of political, artistic, and cultural heartache, "All the Beauty and the Bloodshed" is, in so many ways, the Great American Novel in documentary form." (TheWrap)
Saturday, February 4
Doors 2:35 pm | Movie 2:55 pm *Start time subject to change. Please arrive on time.
ALL THE BEAUTY AND THE BLOODSHED (Laura Poitras, 2022 / 117 mins / 14A) Following the life of artist Nan Goldin and the downfall of the Sackler family, the pharmaceutical dynasty who was greatly responsible for the opioid epidemic's unfathomable death toll.
*Minors permitted. Must be 19+ w/ID for bar service. Rio Theatre Groupons and passes OK for any single film screening only. Please redeem at the box office.
*Advance ticket sales end an hour before showtime; unless otherwise noted tickets are available for purchase at the door.
*If you are looking to redeem your tickets to either a canceled Rio Theatre screening or a Rio Theatre gift certificate, please email <riomanagers@gmail.com> with info including your name, canceled receipt number, gift certificate info, what you are wanting to see and when, and we can make the switch for you in advance. Alternately, you can bring this information with you to the venue, and we will do our best to help you at the box office.
Venue Location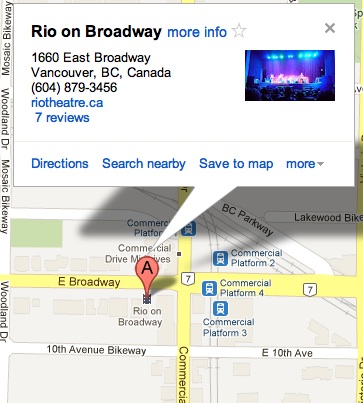 Share this event