Infernal Affairs (4K Restoration)
8:30pm - Tuesday, Jan 31, 2023
Two of Hong Kong cinema's most iconic leading men, Tony Leung and Andy Lau, face off in the breathtaking thriller that revitalized the city-state's twenty-first-century film industry, launched a blockbuster franchise, and inspired Martin Scorsese's THE DEPARTED. The set-up is diabolical in its simplicity: two undercover moles—a police officer (Leung) assigned to infiltrate a ruthless triad by posing as a gangster, and a gangster who becomes a police officer in order to serve as a spy for the underworld—find themselves locked in a deadly game of cat and mouse, each racing against time to unmask the other. As the shifting loyalties, murky moral compromises, and deadly betrayals mount, INFERNAL AFFAIRS raises haunting questions about what it means to live a double life, lost in a labyrinth of conflicting identities and allegiances.
The Hong Kong crime drama was jolted to new life with the release of the Infernal Affairs trilogy, a bracing, explosively stylish critical and commercial triumph that introduced a dazzling level of narrative and thematic complexity to the genre with its gripping saga of two rival moles—played by superstars Tony Leung Chiu-wai and Andy Lau Tak-wah—who navigate slippery moral choices as they move between the intersecting territories of Hong Kong's police force and its criminal underworld. Set during the uncertainty of the city-state's handover from Britain to China and steeped in Buddhist philosophy, these ingeniously crafted tales of self-deception and betrayal mirror Hong Kong's own fractured identity and the psychic schisms of life in a postcolonial purgatory
"What makes it special is the inner turmoil caused by living a lie. If everyone you know and everything you do for 10 years indicates you are one kind of person, and you know you are another, how do you live with that?" (Roger Ebert, Chicago Sun-Times)
"Spins in place with aplomb, generating exponentially more vertiginous doublings with each sweaty-palmed set piece." (Village Voice)
"What gives Infernal Affairs its heat is the friction of who-am-I psychology and cool Hong Kong-style action." (Entertainment Weekly)
Sunday, January 22
Movie 8:30 pm *As this is screening as part of a double bill, the start time subject to change. Please arrive on time.
INFERNAL AFFAIRS (Andrew Lau Wai-Keung, Alan Mak, 2004 / 101 mins / 18A / Cantonese with English subtitles) Idealistic police cadet Chan Wing-Yan is recruited by Police Superintendant Wong to go deep undercover as a member of the criminal Triad society. Into the same cadet class, crime boss Hon Sam installs new Triad member Lau Kin Ming to become a long-term mole for the gang. A decade later, both have risen through the ranks in their respective aliases -- but when both of their covers are in danger of being blown, a game of life and death ensues.
*Minors permitted. Must be 19+ for bar service. Rio Theatre Groupons and passes OK for any single film screening only. Please redeem at the box office.
*If you are looking to redeem your tickets to either a canceled Rio Theatre screening or a Rio Theatre gift certificate, please email <riomanagers@gmail.com> with info including your name, canceled receipt number, gift certificate info, what you are wanting to see and when, and we can make the switch for you in advance. Alternately, you can bring this information with you to the venue, and we will do our best to help you at the box office.
Venue Location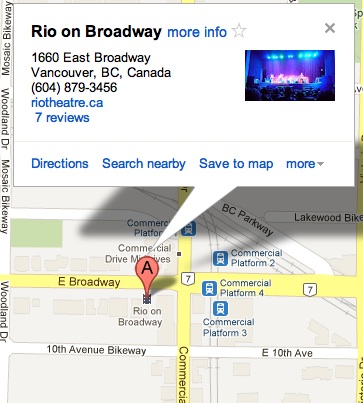 Share this event