Blue Velvet #MusicMonday (Final Screening)
8:45pm - Monday, Jan 30, 2023
"Heineken? Fuck that shit! Pabst Blue Ribbon!"
We are paying tribute to the late, great film and TV composer and music arranger Angelo Badalamenti with a prime time, #MusicMonday screening of David Lynch's BLUE VELVET. While Badalamenti had a storied and very long career working in film and television, he will be best remembered for his indelible and fruitful collaborations with Lynch, which included their initial work on BLUE VELVET. Subsequent projects include both of the "Twin Peaks" TV series, THE STRAIGHT STORY, and MULHOLLAND DRIVE.
Badalamenti's musical contributions directly impacted the texture and wildly atmospheric feel of the films he scored for Lynch, and are completely intertwined elements within each of them. Though he was already an established composer by the time he was brought on to be Isabella Rossellini's vocal coach for her performance of the song "Blue Velvet" in the film (he can also be seen as the piano player in that scene), the gig was essentially the "big break" that ultimately led to a career-long collaborations with Lynch, as well as other high-profile projects. Of their creative and professional partnership, Badalamenti lamented that it was his "second best marriage."
Kyle MacLachlan, Isabella Rosselini and Dennis Hopper turn in some of the best performances of their respective careers in director David Lynch's ultra cool and very cult neo-noir mystery thriller BLUE VELVET, which also features a standout performance from the late, great Dean Stockwell. As such, we thought it a fitting time to re-visit his turn in this oft-requested classic.
Strange, sexy, brilliant and surreal, BLUE VELVET is widely regarded as one of the best films of its decade, earning Lynch his second Best Director Oscar nomination. The film is very much a showcase for Lynch's stylish visuals and occasional bouts of disturing (if not weird) imagery, its moody aesthetic enhanced further by a memorable score from Badalementi (who also supervised the soundtrack). Also starring Laura Dern, and a severed human ear.
"Every viewing yields new insights. A berserko modern classic." (Little White Lies)
"Three decades after its initial release, David Lynch's 'Blue Velvet' has lost none of its power to derange, terrify, and exhilarate." (Village Voice)
"The charged erotic atmosphere makes the film something of a hallucination, but Lynch's humor keeps breaking through, too." (Pauline Kael, New Yorker)
#MusicMonday, January 23 (Encore Screening)
Doors 8:15 pm | Movie 8:45 pm *Start time subject to change. Please arrive on time.
BLUE VELVET (David Lynch, 120 mins / 1986) | This sensual mystery thriller is about strange happenings in a small North Carolina town. A college student stumbles across a bizarre mystery and wants to know more, perhaps too much more. The strange world he's found lurking beneath his hometown's picture-postcard veneer is about to become much stranger. It is also an unforgettably fascinating and foreboding world.
*Minors permitted. Must be 19+ w/ID for bar service and main floor seating.
*Rio Theatre Groupons and passes OK for any single film screening only. Please redeem at the box office. Online sales end an hour before showtime; unless otherwise noted, tickets are always available for purchase at the door.
*If you are looking to redeem your tickets to either a canceled Rio Theatre screening or a Rio Theatre gift certificate, please email <riomanagers@gmail.com> with info including your name, canceled receipt number, gift certificate info, what you are wanting to see and when, and we can make the switch for you in advance. Alternately, you can bring this information with you to the venue, and we will do our best to help you at the box office.
Venue Location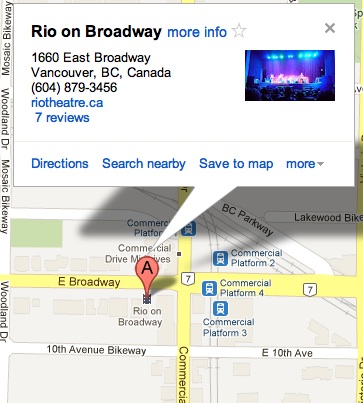 Share this event