Chungking Express (4K Restoration)
6:30pm - Tuesday, Jan 31, 2023
The whiplash, double-pronged CHUNGKING EXPRESS is one of the defining works of nineties cinema and the film that made Hong Kong filmmaker Wong Kar Wai an instant icon.
Two heartsick Hong Kong cops (Takeshi Kaneshiro and Tony Leung), both jilted by ex-lovers, cross paths at the Midnight Express take-out restaurant stand, where the ethereal pixie waitress Faye (Faye Wong) works. Anything goes in Wong's gloriously shot and utterly unexpected charmer, which cemented the sex appeal of its gorgeous stars and forever turned canned pineapple and the Mamas and the Papas' "California Dreamin'" into tokens of romantic longing. With Brigitte Lin.
"[Wong's] hypnotic images of love and loss finally wear down your resistance as seemingly discordant sights and sounds coalesce into a radiant, crazy quilt." (Rolling Stone Magazine)
"Even if all it had to offer were writer-director Wong Kar-wai's thrillingly distinctive visuals, Chungking Express would be well worth watching; happily, its thoughtfully drawn characters and naturalistic performances also pack a potent dramatic wallop." (Rotten Tomatoes)
"'Chungking Express' is a breezy little Hong Kong movie that has more life, energy, humanity and sheer visual zing than most other shows you'll see in a month or so." (Chicago Tribune)
Tuesday, January 31
Doors 6:00 pm | Movie 6:30 pm *Start time subject to change. Please arrive on time.
CHUNGKING EXPRESS (Wong Kar Wai, 1996 / 103 mins / PG / Cantonese with English subtitles) Every day, Cop 223 buys a can of pineapple with an expiration date of May 1, symbolizing the day he'll get over his lost love. He's also got his eye on a mysterious woman in a blond wig, oblivious of the fact she's a drug dealer. Cop 663 is distraught with heartbreak over a breakup. But when his ex drops a spare set of his keys at a local cafe, a waitress lets herself into his apartment and spruces up his life.
*Minors permitted in the balcony. Must be 19+ w/ID for bar service.
*Rio Theatre Groupons and passes OK for any single film screening only. Please redeem at the box office. Online sales end an hour before any given showtime. Unless otherwise noted, tickets are alo available for purchase at the door.
*If you are looking to redeem your tickets to either a canceled Rio Theatre screening or a Rio Theatre gift certificate, please email <riomanagers@gmail.com> with info including your name, canceled receipt number, gift certificate info, what you are wanting to see and when, and we can make the switch for you in advance. Alternately, you can bring this information with you to the venue, and we will do our best to help you at the box office.
Venue Location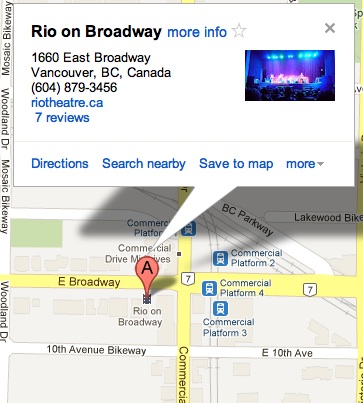 Share this event