Tony Leung Double Feature! Chungking Express (4K Restoration) + Infernal Affairs (4K Restoration)
6:30pm - Tuesday, Jan 31, 2023
We're toasting Chinese Lunar New Year festivities (2023 - Year of the Rabbit) with a double header featuring two standout performances from one of our favourite actors, the incomparable (not to mention prolific) Tony Leung.
Join us on Tuesday, January 30 for 4K restorations of modern Hong Kong cinema classics, including Wong Kar Wai's CHUNGKING EXPRESS at 6:30 pm followed by the masterful crime thriller INFERNAL AFFAIRS (the inspiration behind Martin Scorsese's THE DEPARTED) at 8:30 pm.
See one, or see em both for one sweet price!
Tuesday, January 31
CHUNGKING EXPRESS (4K Restoration)
Doors 6:00 pm | Movie 6:30 pm *Please arrive on time.
INFERNAL AFFAIRS (4K Restoration - Final Screening)
Movie 8:30 pm *Apx start time.
CHUNGKING EXPRESS (Wong Kar Wai, 1996 / 103 mins / PG / Cantonese with English subtitles) Every day, Cop 223 buys a can of pineapple with an expiration date of May 1, symbolizing the day he'll get over his lost love. He's also got his eye on a mysterious woman in a blond wig, oblivious of the fact she's a drug dealer. Cop 663 is distraught with heartbreak over a breakup. But when his ex drops a spare set of his keys at a local cafe, a waitress lets herself into his apartment and spruces up his life.
INFERNAL AFFAIRS (Andrew Lau Wai-Keung, Alan Mak, 2004 / 101 mins / 18A / Cantonese with English subtitles) Idealistic police cadet Chan Wing-Yan is recruited by Police Superintendant Wong to go deep undercover as a member of the criminal Triad society. Into the same cadet class, crime boss Hon Sam installs new Triad member Lau Kin Ming to become a long-term mole for the gang. A decade later, both have risen through the ranks in their respective aliases -- but when both of their covers are in danger of being blown, a game of life and death ensues.
*Minors permitted. Must be 19+ w/ ID for bar service. All seating is general admission. Online sales end an hour before showtime. Unless otherwise noted, tickets are also available for purchase at the door.
**Rio Theatre Groupons and passes OK for any single film only. Please redeem at the door, or email riomanagers@gmail.com with detailed info if you'd like to redeem in advance.
Venue Location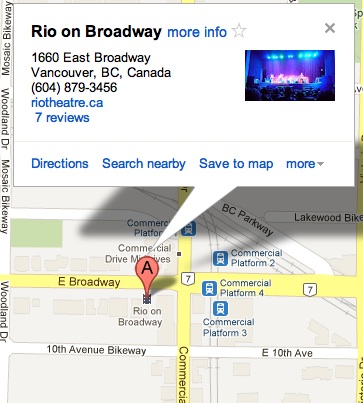 Share this event