Evil Dead 2: Dead By Dawn
9:00pm - Saturday, Apr 15, 2023
"Gimme some sugar, baby!"
Join us at the Rio Theatre to for back-to-back screenings of one of our favourite franchises with one of our most requested movie marathon events - Sam Raimi's glorious EVIL DEAD trilogy. Released in Horror icon Bruce Campbell (so groovy, baby!) stars in this much loved franchise that includes THE EVIL DEAD, EVIL DEAD II: DEAD BY DAWN and ARMY OF DARKNESS (aka, "The Medieval Dead").
See one film, or see them all for one groovy price!
Costumes welcome - and encouraged! (Show us what you've got, kid.) All seating is General Admission and first come, first served. We anticipate a busy night, so we recommend coming early for great seats!
Saturday, April 15
EVIL DEAD 2: DEAD BY DAWN
Movie 9:00 pm *As this is screening as part of a triple feature, the start time is subject to change.
EVIL DEAD 2: DEAD BY DAWN (Sam Raimi, 1987 /1 4A / 84 min) | The lone survivor 1of an onslaught of flesh-possessing spirits holds up in a cabin with a group of strangers while the demons continue their attack.
*Minors OK. Must be 19+ w/ID for bar service.
*Rio Theatre Groupons and Rio Theatre passes are OK for any single film screening only. Please redeem at the box office.
*Online sales end an hour before showtime; unless otherwise noted, tickets are always available for purchase at the box office prior to showtime. All Rio Theatre tickets are final sale. Our box office is typically open 30 minutes before showtime. All seating is General Admission; please arrive 20-30 minutes prior to showtime to ensure great seats and time for treats.
*If you are looking to redeem either a Rio Theatre gift certificate or Groupon to any regular Rio Theatre screening: You can either email us in advance <info@riotheatre.ca> and give us a "heads up," or do it at the box office prior to showtime. (We seat 400+ people and our regular screenings are very rarely at capacity - you should not have issues being admitted.)
Venue Location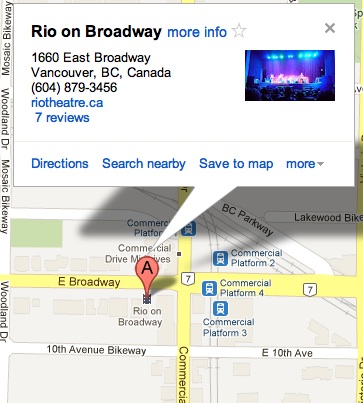 Share this event