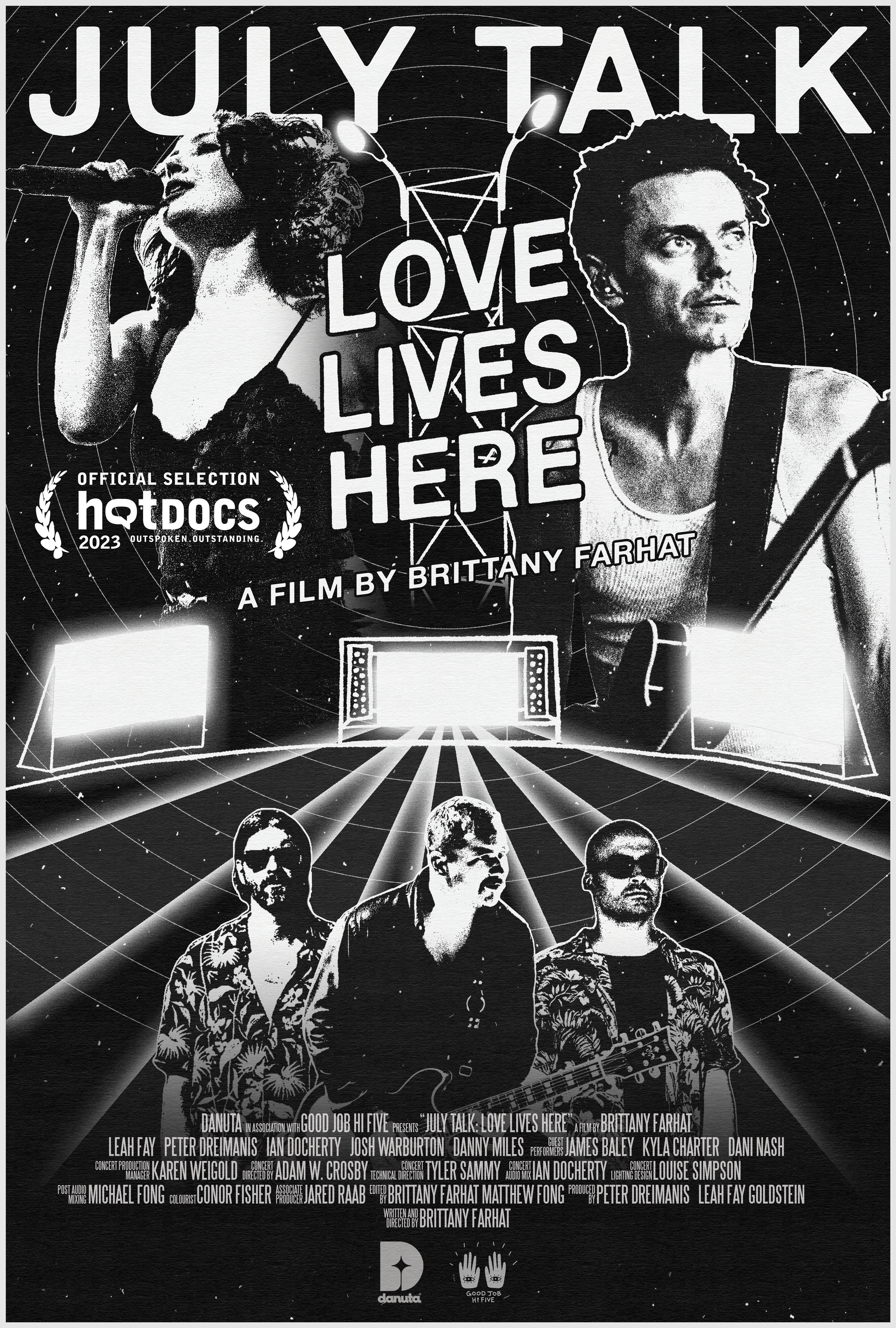 July Talk: Love Lives Here (With Filmmaker Q&A!)
6:30pm - Friday, Jun 16, 2023
What is essential in a time of upheaval?
As July Talk plans for its only live shows of 2020, the band confronts deep uncertainties: a public health emergency, financial risk and the sudden onset of a chronic illness in one of its members. Emerging director Brittany Farhat documents the months of panic and epiphany as the drive-in shows take shape. Combining the real-time concert with unreleased archival footage of the band's highs and lows over a decade, Farhat follows a thoughtful group of artists to a crossroads of identity and circumstance. They are traveling far from the familiar: staring out at a field of cars in the middle of nowhere, finding their strength under a summer meteor shower.
July Talk is a three-time JUNO Award winning band from Toronto, Canada. They have toured the world for the last decade with purpose and poise, delivering churning and fiercely physical performances at every turn. From their iconic three night sold out stand
at Massey Hall to unforgettable appearances at festivals like Wayhome and Field Trip, the band has a storied history with their hometown.
As the recipients of the Hi-Fidelity Prism Prize award in 2017 (given to a recording artist who has used video art to represent their work in a consistently creative and innovative way), the band is made up of filmmakers and performance artists. They have created
groundbreaking music videos for every one of their carefully crafted singles, often presented as love letters to the city they call home.
Filmmakers including director Brittany Farhat will be joining us for a live Q&A following the screening.
Friday, June 16
Doors 6:00 pm | Movie 6:30 pm *Start time subject to change. Please arrive on time.
JULY TALK: LOVE LIVES HERE (Brittany Farhat, 2023 / 83 mins / PG) Grappling with a global pandemic and a live music shutdown, hard touring band July Talk books Out of crisis comes magic. July Talk built their fan base through relentless high-energy shows, which ground to a halt during the pandemic. Forced to pause and take stock, Leah Fay and Peter Dreimanis plan a one-of-a-kind drive-in theatre show in August 2020. the Stardust Drive-In Theatre north of Toronto for two nights in August, 2020.
*Minors OK. Must be 19+ w/ID for bar service.
*Rio Theatre Groupons and Rio Theatre passes are OK for any single film screening only. Please redeem at the box office.
*Online sales end an hour before showtime; unless otherwise noted, tickets are always available for purchase at the box office prior to showtime. All Rio Theatre tickets are final sale. Our box office is typically open 30 minutes before showtime. All seating is General Admission; please arrive 20-30 minutes prior to showtime to ensure great seats and time for treats.
*If you are looking to redeem either a Rio Theatre gift certificate or Groupon to any regular Rio Theatre screening: You can either email us in advance <info@riotheatre.ca> and give us a "heads up," or do it at the box office prior to showtime. (We seat 400+ people and our regular screenings are very rarely at capacity - you should not have issues being admitted.)
*Minors OK. Must be 19+ w/ID for bar service. Please arrive 20-30 minutes prior to showtime to ensure great seats - and time for treats!
*Rio Theatre Groupons and Rio Theatre movie passes are OK for any regular single film screening only. Please redeem at the box office.
*Advance ticket sales end an hour before showtime. Unless otherwise noted, tickets are always available for purchase at the box office prior to showtime (subject to availability). All Rio Theatre tickets are final sale.
*If you are looking to redeem either a Rio Theatre gift certificate or Groupon to any regular Rio Theatre screening: You can either email us and reserve your tickets in advance info@riotheatre.ca, or do it at the box office prior to showtime. (We seat 400+ people and our regular screenings are very rarely at capacity - you should not have issues being admitted.)
Venue Location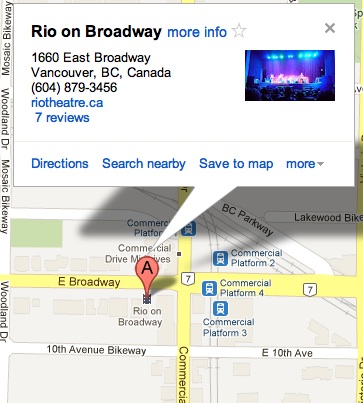 Share this event