The Wicker Man (50th Anniversary 4K Restoration)
6:45pm - Wednesday, Jun 21, 2023
The summer solstice is has been revered in countless cultures, many of which incorporate mystical and pagan rituals to mark the important date on the calendar. On Wednesday, June 21, we're going to mark it Rio Theatre-style, with a screening of Robin Hardy's endlessly unsettling 1973 classic, THE WICKER MAN. In celebration of the 50th Anniversary of this truly iconic work of British folkloric cinema, the film has been beautifully "reborn" in glorious 4K.
Edward Woodward stars as Sgt. Howie, a righteous, puritanical, staunchly Christian police officer investigating the disappearance of a young girl on a secluded Scottish Island. Upon being dispatched at the behest of an anonymous letter, he comes into conflict with the unusual residents of Summerisle, and is surprised to discover that the inhabitants suspiciously dene the missing girl's very existence. Even more shocking, at least to the traditionally pious law officer, is that the island seems to be ruled by a libertarian society organized around pagan rituals. With Christopher Lee, Britt Eklund.
"Remains as bizarre and bewitching a fable as when it first appeared.... once seen, never forgotten!" (The Hollywood Reporter)
"A British golden-oldie worthy to be placed alongside classics such as Ira Levin's 'The Stepford Wives' or 'Rosemary's Baby'." (The Guardian)
"The Wicker Man's genre-bending, thematic daring, and tortuous history have made it the U.K.'s definitive cult movie." (The Village Voice)
"The 'Citizen Kane' of horror movies." (Cinefantastique Magazine)
"Mauled by the studio, obsessed over by fans, deconstructed by academics, remade with Nicolas Cage – yet the pagan British weirdness of 'The Wicker Man' remains fresh. Now, four decades since release, reappraised, scrutinised, analysed, deconstructed and obsessed over, it is the subject of painstakingly researched books and worthy academic treatises, and it features on the media studies 'A' level syllabus. You can buy the soundtrack – an essential purchase – or the Hollywood remake featuring Nicolas Cage in a bear suit, which is possibly not so essential." (BFI.org)
Wednesday, June 21
Doors 6:15 pm | Movie 6:45 pm *Start time subject to change. Please arrive on time.
THE WICKER MAN (Robin Hardy, 1973 / 94 mins "Final Cut" / 18A) After receiving an anonymous letter about a missing 12-year-old girl, devoutly Christian Police Sergeant Neil Howie travels by seaplane to a remote Scottish island to investigate. But the islanders welcome neither his badge nor religious devotion, for Lord Summerisle and his devoted followers worship only the pagan gods of old - and those gods demand a sacrifice. Howie fears for the missing girl's life and follows every possible lead to find her - despite the islanders' interference - before she becomes a human sacrificial lamb.
*Minors OK. Must be 19+ w/ID for bar service.
*Rio Theatre Groupons and Rio Theatre passes are OK for any single film screening only. Please redeem at the box office.
*Online sales end an hour before showtime; unless otherwise noted, tickets are always available for purchase at the box office prior to showtime. All Rio Theatre tickets are final sale. Our box office is typically open 30 minutes before showtime. All seating is General Admission; please arrive 20-30 minutes prior to showtime to ensure great seats and time for treats.
*If you are looking to redeem either a Rio Theatre gift certificate or Groupon to any regular Rio Theatre screening: You can either email us in advance <info@riotheatre.ca> and give us a "heads up," or do it at the box office prior to showtime. (We seat 400+ people and our regular screenings are very rarely at capacity - you should not have issues being admitted.)
*Minors OK. Must be 19+ w/ID for bar service. Please arrive 20-30 minutes prior to showtime to ensure great seats - and time for treats!
*Rio Theatre Groupons and Rio Theatre movie passes are OK for any regular single film screening only. Please redeem at the box office.
*Advance ticket sales end an hour before showtime. Unless otherwise noted, tickets are always available for purchase at the box office prior to showtime (subject to availability). All Rio Theatre tickets are final sale.
*If you are looking to redeem either a Rio Theatre gift certificate or Groupon to any regular Rio Theatre screening: You can either email us and reserve your tickets in advance info@riotheatre.ca, or do it at the box office prior to showtime. (We seat 400+ people and our regular screenings are very rarely at capacity - you should not have issues being admitted.)
Venue Location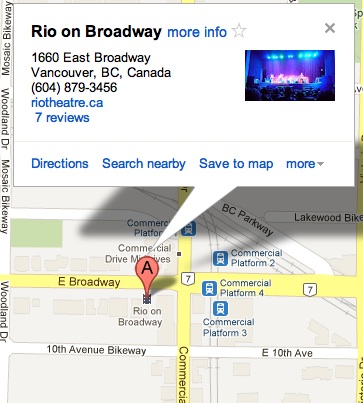 Share this event