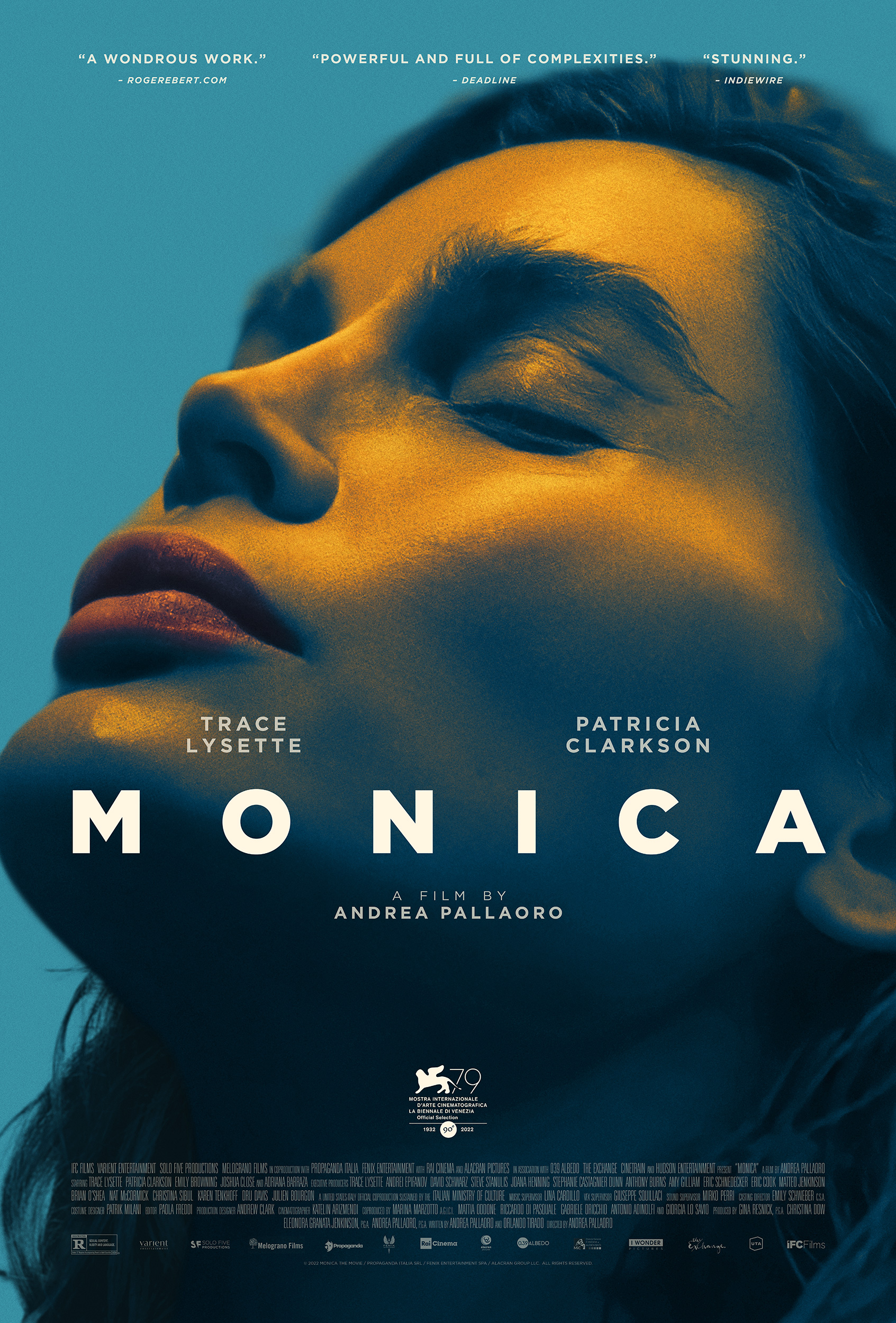 Monica
3:45pm - Sunday, May 28, 2023
MONICA is an intimate portrait of a woman who, for the first time in 20 years, returns home to the Midwest to take care of her ailing mother. Through the themes of abandonment, aging, rejection, acceptance and forgiveness, we get to know Monica and her world made of pain, fear but also courage. A journey through the needs and desires of a woman who opens a cognitive look at the human condition. With Trace Lysette, Patricia Clarkson, Adriana Barraza, Emily Browning, Joshua Close.
"Bolstered by a powerful lead performance from Trace Lysette, Monica follows a personal quest that's as beautifully filmed as it is emotionally resonant." (Rotten Tomatoes)
"Stunning." (IndieWire)
"A tender examination of the isolation that often comes with the trans experience, Pallaoro's film arrives as if it descended from the cosmos, just when we need it most." (The Daily Beast)
"Director Andrea Pallaoro doesn't burden this delicate tale of reconciliation with long monologues or extensive back stories, and the performances are compelling in their restraint." (New York Times)
"Placing a uniquely trans story in the center of a well-worn road creates a path to a new sentiment to be granted to a tale that many people have and will face in their life." (AutoStraddle)
Sunday, May 28
Doors 3:30 pm | Movie 3:45 pm *SHARP. Start time subject to change. Please arrive on time.
MONICA (Andrea Pallaoro, 2023 / 114 mins / 18A) A woman returns home to care for her ailing mother who she hasn't seen in years in this tender portrait of family, forgiveness, and acceptance.
*Minors OK. Must be 19+ w/ID for bar service.
*Rio Theatre Groupons and Rio Theatre passes are OK for any single film screening only. Please redeem at the box office.
*Online sales end an hour before showtime; unless otherwise noted, tickets are always available for purchase at the box office prior to showtime. All Rio Theatre tickets are final sale. Our box office is typically open 30 minutes before showtime. All seating is General Admission; please arrive 20-30 minutes prior to showtime to ensure great seats and time for treats.
*If you are looking to redeem either a Rio Theatre gift certificate or Groupon to any regular Rio Theatre screening: You can either email us in advance <info@riotheatre.ca> and give us a "heads up," or do it at the box office prior to showtime. (We seat 400+ people and our regular screenings are very rarely at capacity - you should not have issues being admitted.)
Tickets no longer on sale for this event.
This event is over! Check out our events currently on sale