Aliens
10:40pm - Saturday, Jun 10, 2023
"Get away from her, you bitch!"
As one of – if not the – greatest action heroines to ever hit the silver screen, Sigourney Weaver's unstoppable Ellen Ripley kicks all the asses and takes all the names throughout one of the most iconic sci-fi action franchises films of all time.
In this sequel to Scott's game-changing work of sci-fi, Lt. Ripley's (Weaver) shuttle is found by a deep space salvage team after floating in space for 57 years,. Upon arriving at LV-426, the marines find only one survivor, a nine year old girl named Newt (Carrie Henn). But even these battle-hardened marines with all the latest weaponry are no match for the hundreds of aliens that have invaded the colony.
"While Alien was a marvel of slow-building, atmospheric tension, Aliens packs a much more visceral punch, and features a typically strong performance from Sigourney Weaver." (Rotten Tomatoes)
"Beyond dispute, however, is the film's timeless worth as a cathartic work, especially in terms of its accidentally commentary on the sexism of the corporate structure." (Salon.com)
"Scene to scene, encounter to encounter, its tension builds unrelentingly. So, fasten your seat belts. It`s a blast." (Chicago Tribune)
Saturday, June 10
ALIENS
Movie 10:40 pm *As this is a double feature, the start time is subject to change. Please arrive on time.
ALIENS (James Cameron, 1986 / 137 mins / PG / DCP) When Ripley's lifepod is found by a salvage crew over 50 years later, she finds that terra-formers are on the very planet they found the alien species. When the company sends a family of colonists out to investigate her story, all contact is lost with the planet and colonists. They enlist Ripley and the colonial marines to return and search for answers.
*Minors permitted. Must be 19+ w/ID for bar service.
*Rio Theatre Groupons and Rio Theatre passes are OK for any single film screening only. Please redeem at the box office.
*Online sales end an hour before showtime; unless otherwise noted, tickets are always available for purchase at the box office prior to showtime. All Rio Theatre tickets are final sale. Our box office is typically open 30 minutes before showtime. All seating is General Admission; please arrive 20-30 minutes prior to showtime to ensure great seats and time for treats.
*If you are looking to redeem either a Rio Theatre gift certificate or Groupon to any regular Rio Theatre screening: You can either email us in advance <info@riotheatre.ca> and give us a "heads up," or do it at the box office prior to showtime. (We seat 400+ people and our regular screenings are very rarely at capacity - you should not have issues being admitted.)
*Minors OK. Must be 19+ w/ID for bar service. Please arrive 20-30 minutes prior to showtime to ensure great seats - and time for treats!
*Rio Theatre Groupons and Rio Theatre movie passes are OK for any regular single film screening only. Please redeem at the box office.
*Advance ticket sales end an hour before showtime. Unless otherwise noted, tickets are always available for purchase at the box office prior to showtime (subject to availability). All Rio Theatre tickets are final sale.
*If you are looking to redeem either a Rio Theatre gift certificate or Groupon to any regular Rio Theatre screening: You can either email us and reserve your tickets in advance info@riotheatre.ca, or do it at the box office prior to showtime. (We seat 400+ people and our regular screenings are very rarely at capacity - you should not have issues being admitted.)
Venue Location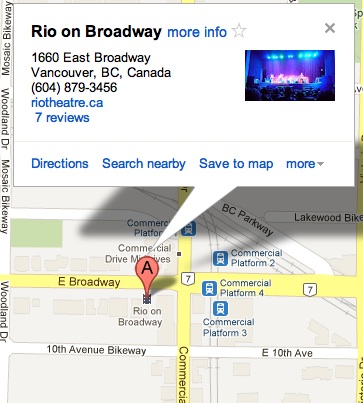 Share this event