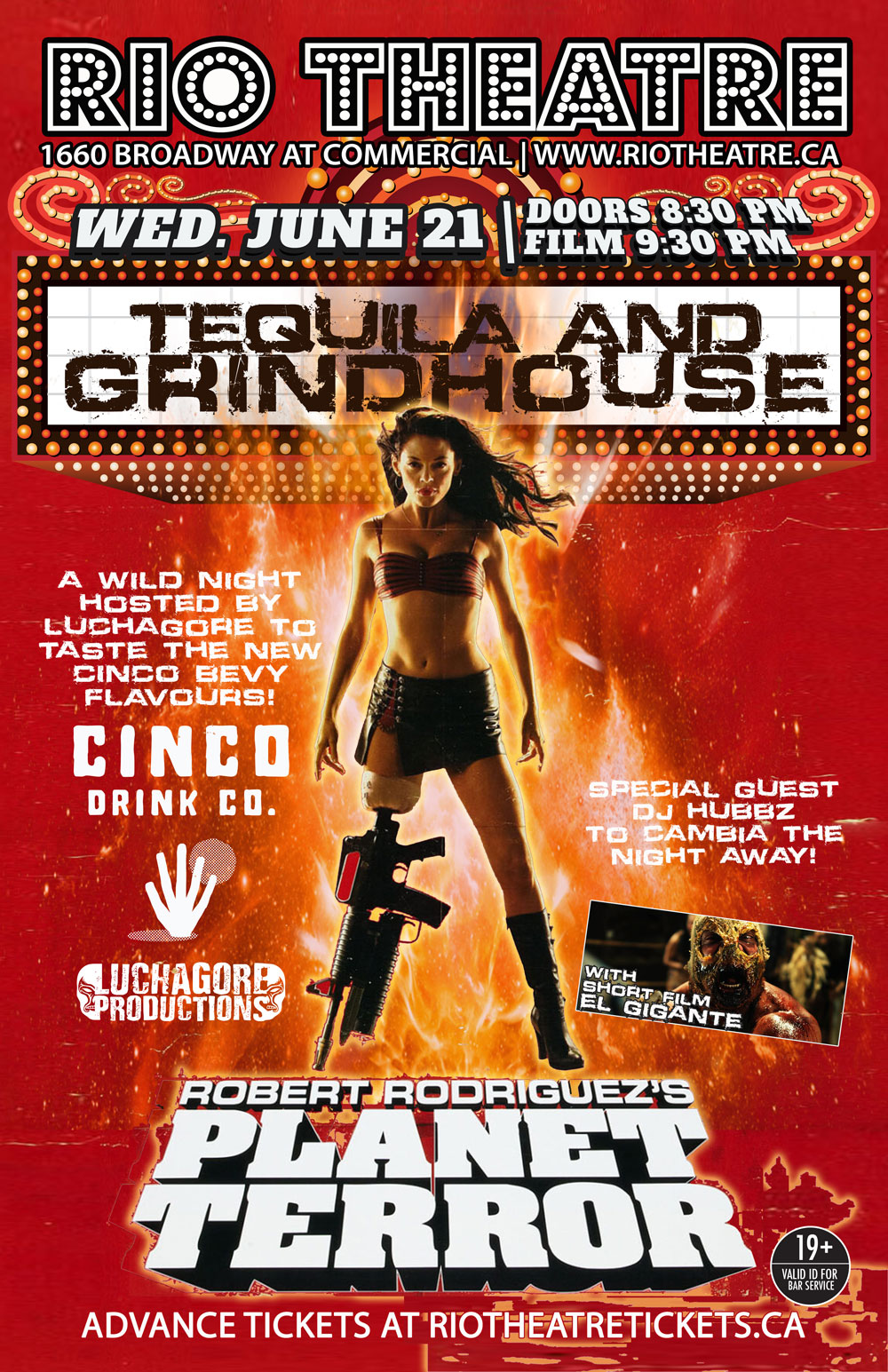 Planet Terror: Tequila & Grindhouse
9:30pm - Wednesday, Jun 21, 2023
Join us at the Rio Theatre on Wednesday, June 21 for a wild night hosted by Vancouver's own Luchagore Productions to taste the amazing new flavors from Cinco Drink Co.
Come watch Robert Rodriguez' 2007 grindhouse classic PLANET TERROR and enjoy Rodriguez-style tequila as part of a Mexican movie night - and yes, there will be hot sauce for popcorn! VÁMONOS!
Special guest DJ HUBZZ to cumbia the night away.
An ordinary evening in a small Texas town becomes a grisly nightmare when a horde of flesh-eating zombies goes on the prowl. Cherry (Rose McGowan), a go-go dancer, and Wray (Freddy Rodriguez), her ex-lover, band together with other survivors in a no-holds barred effort to escape the carnage. The odds become a bit more even when Cherry, who lost her leg to a hungry ghoul, gets a machine-gun appendage and lets the bullets fly. With Josh Brolin, Marley Shelton, Michael Biehn.
"Gloopy and outrageous, this schlock horror tribute is pure trash... in the best possible sense." (BBC.com)
"Rodriguez just wants viewers to have a good time, and it comes across in the film -- which is an extremely affectionate homage to seventies exploitation films." (IONCinema.com)
Wednesday, June 21
Doors 8:30 pm | Movie 9:30 pm *Approximate start time. Subject to change. Please arrive on time.
Advance tickets HERE
PLANET TERROR (Robert Rodriguez, 2007 / 105 mins / 18A) After an experimental bio-weapon is released, turning thousands into zombie-like creatures, it's up to a rag-tag group of survivors to stop the infected and those behind its release.
*Must be 19+ w/ID for entry and bar service.
*Rio Theatre Groupons and Rio Theatre passes are OK for any single film screening only. Please redeem at the box office.
*Online sales end an hour before showtime; unless otherwise noted, tickets are always available for purchase at the box office prior to showtime. All Rio Theatre tickets are final sale. Our box office is typically open 30 minutes before showtime. All seating is General Admission; please arrive 20-30 minutes prior to showtime to ensure great seats and time for treats.
*If you are looking to redeem either a Rio Theatre gift certificate or Groupon to any regular Rio Theatre screening: You can either email us in advance <info@riotheatre.ca> and give us a "heads up," or do it at the box office prior to showtime. (We seat 400+ people and our regular screenings are very rarely at capacity - you should not have issues being admitted.)
*Must be 19+ w/ID for entry and bar service.
*Rio Theatre Groupons and Rio Theatre passes are OK for any single film screening only. Please redeem at the box office.
*Online sales end an hour before showtime; unless otherwise noted, tickets are always available for purchase at the box office prior to showtime. All Rio Theatre tickets are final sale. Our box office is typically open 30 minutes before showtime. All seating is General Admission; please arrive 20-30 minutes prior to showtime to ensure great seats and time for treats.
*If you are looking to redeem either a Rio Theatre gift certificate or Groupon to any regular Rio Theatre screening: You can either email us in advance <info@riotheatre.ca> and give us a "heads up," or do it at the box office prior to showtime. (We seat 400+ people and our regular screenings are very rarely at capacity - you should not have issues being admitted.)
Venue Location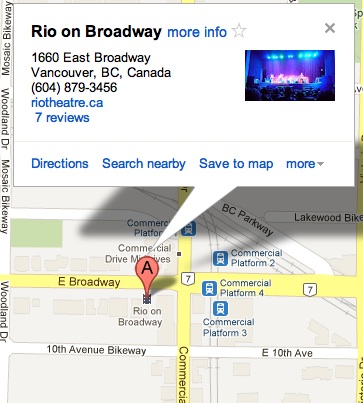 Share this event