The Manboys: Tango, Echo, November
9:45pm - Monday, Oct 16, 2023
Join The Manboys and some of Whistler's finest in the first theatre showing of TANGO, ECHO, NOVEMBER. This decade-in-the- making film follows 5 professional snowboarders and friends from around the globe as they flip, spin, and even straight air their way onto the big screen.
If we cared about film festivals they would likely call this, "A Truly Poised Film Du Neige." Thankfully, we aren't into that kind of shenaniganery, and this one is for real snowboarders.
There will be powder. There will be music. There will be well thought out camera angles. There will be a glimpse behind the curtain. There will be prizes and giveaways. There might even be an afterparty, even though it's a Monday.
We look forward to seeing everyone, enjoying some Boarding, and getting hyped for impending winter.
Tuesday, October 16
Doors 9:15 pm | Event 9:45 pm *Start time subject to change. Please arrive on time.
Featuring the Talents of….
Chris Rasman
Sean Miskiman
Brin Alexander
Jody Wachniak
Darcy Sharpe
Spencer Obrien
Beau Bishop
Victor Daviet
Matt Belzile
Eric Jackson
Joel Loverin
Ryan Paterson
Blake Paul
Presented by
Vans, 686, K2, Giro, RipCurl, Apres Lager, Ride, Nitro, Arcteryx, Spy
*Must be 19+ w/ID for entry and bar service.
*Sorry, Rio Thetre Groupons and passes n/a for this event.
*Online sales end an hour before showtime; unless otherwise noted, tickets are always available for purchase at the box office prior to showtime. Our box office is typically open 30 minutes before showtime. All seating is General Admission; please arrive 20-30 minutes prior to showtime to ensure great seats and time for treats. All Rio Theatre tickets are final sale.
*If you are looking to redeem either a Rio Theatre gift certificate or Groupon to any regular Rio Theatre screening: You can either email us in advance <info@riotheatre.ca> and give us a "heads up," or do it at the box office prior to showtime. (We seat 400+ people and our regular screenings are very rarely at capacity – you should not have issues being admitted.)
*Must be 19+ w/ID for entry and bar service.
*Sorry, Rio Thetre Groupons and passes n/a for this event.
*Online sales end an hour before showtime; unless otherwise noted, tickets are always available for purchase at the box office prior to showtime. Our box office is typically open 30 minutes before showtime. All seating is General Admission; please arrive 20-30 minutes prior to showtime to ensure great seats and time for treats. All Rio Theatre tickets are final sale.
*If you are looking to redeem either a Rio Theatre gift certificate or Groupon to any regular Rio Theatre screening: You can either email us in advance <info@riotheatre.ca> and give us a "heads up," or do it at the box office prior to showtime. (We seat 400+ people and our regular screenings are very rarely at capacity – you should not have issues being admitted.)
Venue Location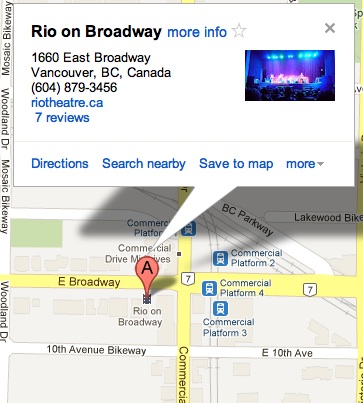 Share this event