Stop Making Sense (40th Anniversary Restoration)
9:15pm - Friday, Oct 13, 2023
Same as it ever was…
The greatest concert film of all time, STOP MAKING SENSE brings to the screen Talking Heads at Hollywood's Pantages Theater in December 1983: David Byrne, Tina Weymouth, Chris Frantz, and Jerry Harrison, alongside an ecstatic ensemble of supporting musicians. Renowned filmmaker Jonathan Demme ('Silence of the Lambs') captures the band at their exhilarating best, in this new and complete restoration for the film's 40th anniversary.
Newly restored in 4K, Demme's 1984 film is considered by critics as the greatest concert film of all time. In addition to the core band members, the ensemble includes Bernie Worrell, Alex Weir, Steve Scales, Lynn Mabry and Edna Holt.
Shot over the course of three nights at Hollywood's Pantages Theater in December 1983, the movie is notable for being the first made entirely using digital audio techniques. STOP MAKING SENSE has been hailed by Leonard Maltin as "one of the greatest rock movies ever made," and Pauline Kael of The New Yorker described it as "…close to perfection."
One thing's for sure, though... This ain't no disco, but it is a party! (One that's best enjoyed with us. On our big screen, and with our even bigger sound!)
Friday, October 13
Burning Down the House Party<
Presented in partnership with RANGE magazine!
Your best enormous 80s power suits, shoulder pads, and more are welcome and encouraged.
This ain't no disco, but it is definitely going to be a party!
Doors 8:45 pm | Movie 9:15 pm *Start time subject to change. Please arrive on time.
Early Bird and Group Ticket Pricing in Effect!
STOP MAKING SENSE (Jonathan Demme, 1984 / 88 mins / G) | Director Jonathan Demme captures the frantic energy and artsy groove of Talking Heads in this concert movie shot at the Hollywood Pantages Theatre in 1983. The band's frontman, David Byrne, first appears on an empty stage, armed with only an acoustic guitar, and is gradually joined by bassist Tina Weymouth, drummer Chris Frantz, keyboardist Jerry Harrison and a cadre of backup singers as they perform the band's hits, culminating in an iconic performance featuring Byrne in an enormous suit.
*Minors OK. Must be 19+ w/ID for bar service.
*Rio Theatre Groupons and Rio Theatre passes are OK for any single film screening only. Please redeem at the box office.
*Online sales end an hour before showtime; unless otherwise noted, tickets are always available for purchase at the box office prior to showtime. Our box office is typically open 30 minutes before showtime. All seating is General Admission; please arrive 20-30 minutes prior to showtime to ensure great seats and time for treats. All Rio Theatre tickets are final sale.
*If you are looking to redeem either a Rio Theatre gift certificate or Groupon to any regular Rio Theatre screening: You can either email us in advance and give us a "heads up," or do it at the box office prior to showtime. (We seat 400+ people and our regular screenings are very rarely at capacity – you should not have issues being admitted.)
*Minors OK. Must be 19+ w/ID for bar service. Please arrive 20-30 minutes prior to showtime to ensure great seats - and time for treats!
*Rio Theatre Groupons and Rio Theatre movie passes are OK for any regular single film screening only. Please redeem at the box office.
*Advance ticket sales end an hour before showtime. Unless otherwise noted, tickets are always available for purchase at the box office prior to showtime (subject to availability). All Rio Theatre tickets are final sale.
*If you are looking to redeem either a Rio Theatre gift certificate or Groupon to any regular Rio Theatre screening: You can either email us and reserve your tickets in advance info@riotheatre.ca, or do it at the box office prior to showtime. (We seat 400+ people and our regular screenings are very rarely at capacity - you should not have issues being admitted.)
Venue Location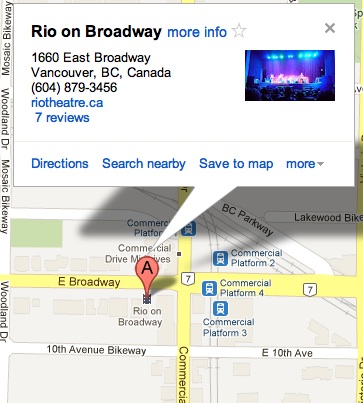 Share this event