TAYLOR SWIFT | THE ERAS TOUR
1:55pm - Saturday, Dec 2, 2023
FINALLY!
The cultural phenomenon that is THE ERAS TOUR continues at the Rio Theatre on December 2 & 7, with the must-see concert film featuring pop icon Taylor Swift performing her hit songs in a once-in-a-lifetime concert experience.
"TAYLOR SWIFT: THE ERAS TOUR delivers exactly what it promises: A smoothly directed, impeccably performed documentary capturing the concert event of the year." (Rotten Tomatoes)
"'Eras Tour' is a wonderful representation of the music, performance and spectacle of Taylor's fabulous show, which, as a concert, sets the bar as high as "Stop Making Sense" did as a concert film." (Minneapolis Star Tribune)
"With its labyrinthine arc, jumbled chronology and dazzling changes of tone, milieu and costume, it's Swift's ode to invention and self-reinvention, the many different lives she's lived and faces she's presented over the course of her career." (Los Angeles Times)
"I did not enter the theater a Swiftie, but I can say with confidence that this immediately goes on the
Saturday, December 2
Doors 1:25 pm | Movie 1:55 pm *Start time subject to change. Please arrive on time.
Adult advance tickets $19.89+ s/c
Kids (Under 15) advance tickets $13.13+ s/c
*Minors OK. Must be 19+ w/ID for bar service.
*Sorry, Rio Theatre Groupons and Rio Theatre passes n/a for this event.
*Online sales end an hour before showtime; unless otherwise noted, tickets are always available for purchase at the box office prior to showtime. Our box office is typically open 30 minutes before showtime. All seating is General Admission; please arrive 20-30 minutes prior to showtime to ensure great seats and time for treats.
*All Rio Theatre tickets are final sale.
Venue Location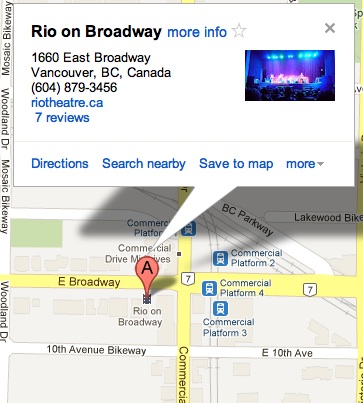 Share this event