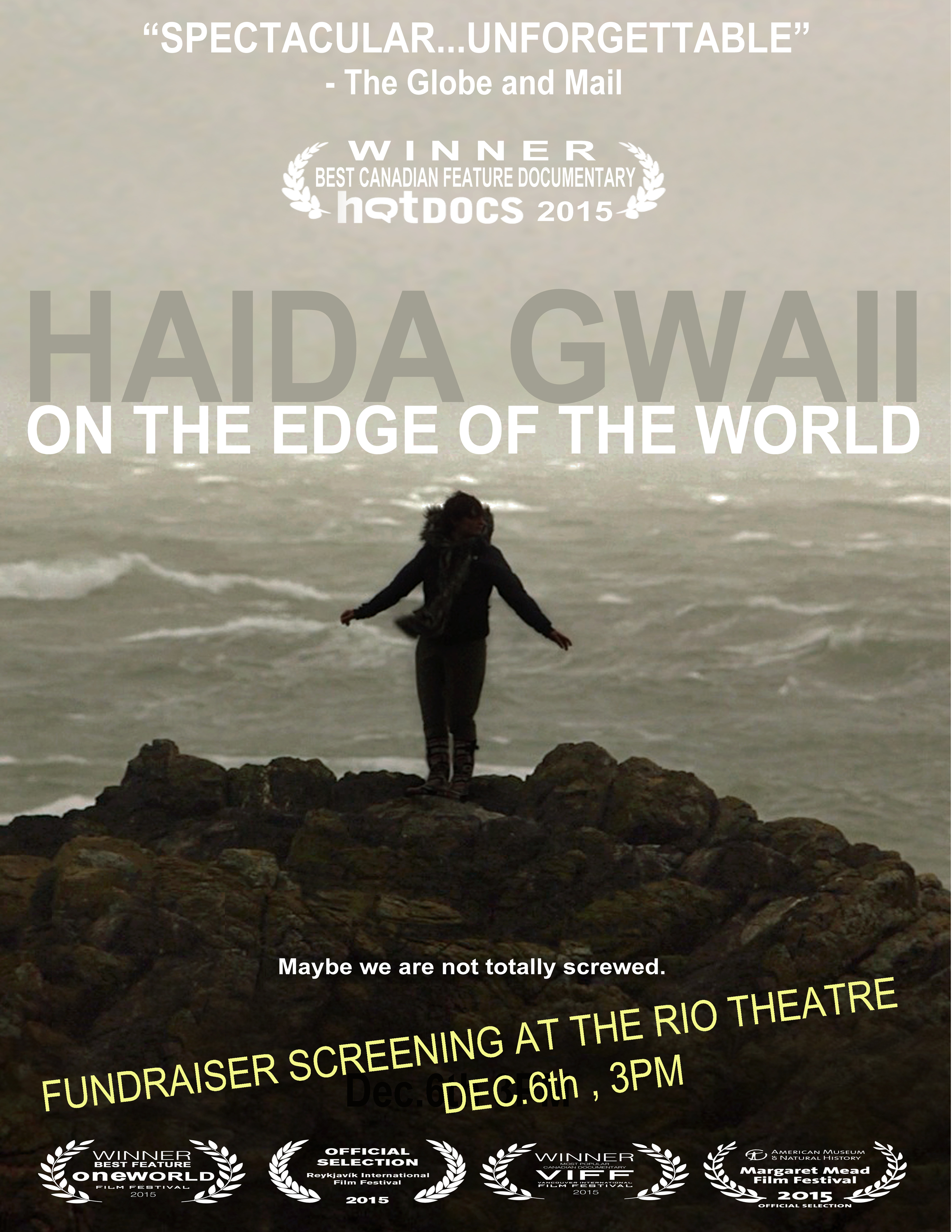 Haida Gwaii: On The Edge Of The World (Fundraiser)
3:00pm - Sunday, Dec 6, 2015
Tickets $12 at the door
PRE SALE TICKETS HAVE SOLD OUT: LIMITED RELEASE AT THE DOOR ON THE NIGHT, BOX OFFICE OPENS AT 12PM THIS DAY!
Director Charles Wilkinson (Oil Sands Karaoke, Peace Out), completes his environmental trilogy with Haida Gwaii: On the Edge of the World. Winner of the top prize at this year's Hot Docs Film Festival in Toronto and winner of Most Popular Canadian Documentary at this year's Vancouver International Film Festival, the film tells the story of a group of remarkable characters living on Haida Gwaii, a remote archipelago off the Northwest coast of B.C.
The Rio Theatre and the Pull Together campaign presents a special screening of this acclaimed documentary to raise funds towards the legal challenge against the federal government's approval of the Enbridge Northern Gateway pipeline, brought by eight First Nations (Haida, Heiltsuk, Kitasoo-Xai'xais, Gitga'at, Gitxaala, Nadleh Whut'en and Nak'azdli Nations), four environmental groups and two intervenors. Hip Hop artist Jerlyn Webster (aka "JB the first lady") will be performing beforehand and introduce the film and director Charles Wilkinson will be in attendance to answer questions after the screening. Other guests and speakers TBD. Stay tuned!
Winner, Best Canadian Feature Documentary Award (Hot Docs, 2015)
Winner, Best Feature (One World Film Festival Ottawa)
Winner, Most Popular Canadian Documentary (Vancouver International Film Festival)
Tickets no longer on sale for this event.
This event is over! Check out our events currently on sale