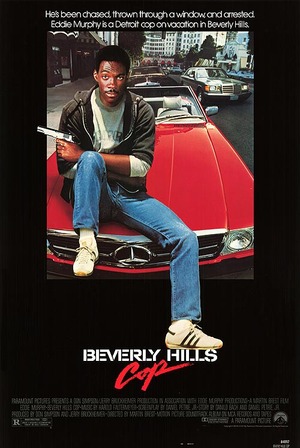 Beverly Hills Cop
11:30pm - Friday, Jul 8, 2016
The heat is on...
Following a triumphant stint on 'Saturday Night Live', Eddie Murphy cemented his status as one of the biggest movie stars of the 1980s with a few choice roles, including that of a street-smart Detroit cop in the action comedy classic BEVERLY HILLS COP - the highest-grossing film of 1984. Ostensibly a fish-out-of-water story, the film features Murphy as the freewheeling and hilariously foul-mouthed detective Axel Foley, who heads to the pristine, lily-white Hills of Beverly to solve the murder of his childhood buddy. Both the movie and the role are perfectly suited to Murphy's masterful timing and natural comedic sensibility, giving him the perfect opportunity to really shine in a performance that portrays charm, wit, and total cockiness. He's at the top of his game in what many consider to be something of a signature role, making BEVERLY HILLS COP pretty perfect for a summer Friday Late Night Movie. (And do we need to mention the glorious 80s soundtrack...? Time to dust off those 'Neutron Dance' shoes, people.) Also starring Ronny Cox, Judge Reinhold, Bronson Pinchot and Paul Reiser.
Friday, July 8
Doors 11:00 pm | Movie 11:30 pm
Tickets $8 advance | $10 at the door
*Minors OK in the balcony! Must be 19+ w/ID for bar service.
**Groupons and passes OK! Please redeem at the door.
BEVERLY HILLS COP (Martin Brest, 1984 / 105 mins / 18A) | A freewheeling Detroit cop pursuing a murder investigation finds himself dealing with the very different culture of Beverly Hills.
Tickets no longer on sale for this event.
This event is over! Check out our events currently on sale