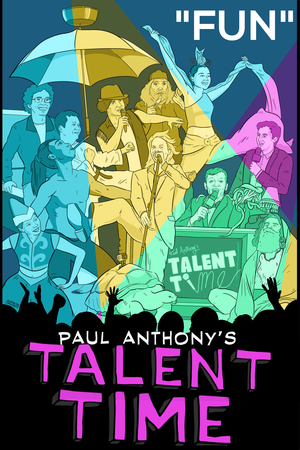 Paul Anthony's Talent Time: Anti-S.A.D. BBQ Party!
8:00pm - Thursday, Jan 4, 2018
When the weather is at it's worst, we will gather and fight Seasonal Affective Disorder with an old fashioned BBQ! We are hoping to get a BBQ food truck out front and then bring in food samples for you all to taste. Picnic on the stage under the hot sun? Plus lots of other summer themed entertainment to warm your chilly bones.
Paul Anthony's Talent Time
Thursday, January 4
Tickets $12 in advance | $14 at the door
Doors 7:00 pm | Show 8:00 pm
*Must be 19+ w/ID for bar service. All ages welcome! (Mild language warning.)
**Sorry, Rio Theatre Groupons and passes not accepted for this event.
Confirmed so far...
✰ HAWAIIAN LUAU DANCE: WAILELE WAI WAI!!
Their name means "a waterfall that flows endlessly. It signifies our intention to grow endlessly as individuals and enrich our own lives and of those around us." Hawaiian Luau dancers!!!!
✰ COMEDIAN GAVIN MATTS!!
Beginning his career in stand-up only four years ago, Gavin has already appeared twice at JFL Northwest, has a comedy album on 604 records (Premature) and won first place in the SiriusXM Top Comic Competition. Happy to have him.
✰ UKRAINIAN SONG/DANCE: SLAVA & ANYA!!
First week in January is Ukrainian Christmas, we celebrate with the traditional sights and sounds of my people. (Yes, I CAN do that dance where you shoot your legs out in a squatted position but I don't think I should)
✰ PHYSICAL COMEDY OF NAYANA FIELKOV!!
Nayana founding member of The Dusty Flower Pot Cabaret. Her work which brings together the mediums of clowning, dance, mask and physical comedy in a unique, defined and recognizable way. Ya know, like a female Mr. Bean : )
www.nayanafielkov.com
✰ GOURMET SAUSAGE SAMPLES: TASTE OF HEAVEN!!
Non-profit organization that feeds love, hope, purpose and nightly meals to people who are stuck in some of life's most difficult situations. We will chat, pass out some samples and if you want more, their food truck will serving outside!
www.tasteheaven.ca
✰ CHARACTER COMEDY: ANDREW BARBER!!
One of the funniest solo sketch guys in the city. It's been years since he has been on our show but if you've been with us for a while you have seen him kill in many personas. So jazzed for his return! www.andrewbarbershop.com
✰ NEW YEARS EVE DO-OVER!!
We will find out who in the audience had the worst NYE and will recreate the countdown and celebration for them with all the pomp and circumstance you deserve! If you had a good NYE, now you get two!
With
- CO HOST RYAN BEIL!!
- Warm up comedian Sean Devlin!!
- HOUSE BAND Kristy-Lee Audette, Catherine Anne H, Emilor Jayne!!
- YOUR CHANCE TO WIN $100!!
- AUDIENCE GAMES & PRIZES!!
"There's no funner night out than the monthly Talent Time." - The Georgia Straight
"Talent Time is the most innovative, raucus, totally silly and inspired show I have seen in years. Watching it is like freebasing sheer fun!" - Matthew Hays, Globe & Mail/CBC Arts Online
"A cult phenomenon that's been flying under the radar...since 2008. A true comedy original. Talent Time defies genre. You have to experience it to truly appreciate it." - Guy MacPherson, The Georgia Straight
Big thanks to our sponsors:
Event photos by lindsaysdiet.com , Novus TV, CRAFT Academy Salon, Bandidas Taqueria and Fritzworks Printing Services! We need more support so if you or any business you know would like to partner up, please let us know.
Tickets no longer on sale for this event.
This event is over! Check out our events currently on sale